Despite police efforts to up the ante on tackling gang-related crime, patched membership has increased.
New police figures reveal there are 6735 patched and prospect gang members across the country.
The greatest increase was in the Tasman District that saw an 82.4 per cent increase – from 68 to 124 members.
In the Bay of Plenty and Eastern District, membership has increased by more than 200 people, while Northland was the only area where there was no increase – with a two per cent decrease.
In July, Stuff reported that over the past four years, dozens of outlaw gang members had returned to New Zealand on the back of Australia's anti-bikie laws and police are worried their presence would add to the illicit drug trade and increasing gang violence in towns and cities across the country.
The Opposition has put the increase in gang affiliation down to the Government taking what it says is a "soft on crime approach" and putting too much effort in reducing the prison population.
The figures supplied to National by Police Minister Stuart Nash, show about 1400 more people have joined a gang since the Government took office in 2017 and National leader Simon Bridges blames a lack of action by the Government.
The latest female extension of the Mongrel Mob, brazen meetings in public places like Te Mata Peak and gang members refusing to hand in illegal firearms was concerning, he says.
"The Government's focus has been on reducing prison numbers at any cost, but it has no plan to reduce crime. An increase in gang membership means an increase in crime in our communities and more victims."
National lost its bid to introduce Firearms Prohibition Orders to the new gun law, which it says would have have given police more powers to search gang members for illegal firearms.
The Government rejected the proposed amendment to the new firearms bill because it had already asked police to work on it separately.
On Thursday Bridges hinted about the contents of a 'gang plan', saying it would require gang members to prove they don't have illegally-sourced income before receiving the benefit.
"It's no secret. We hate gangs... we are thinking about how we can crack down on gangs," he said.
Nash has repeatedly said there was a focus on gangs and organised crime, which had been identified as a priority area in the Coalition Government Agreement.
Extra police were being deployed to target organised crime.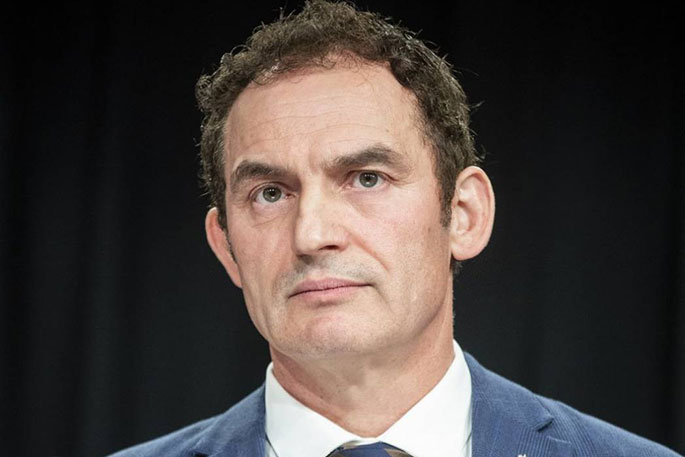 Police Minister Stuart Nash has repeatedly said there is a focus on gangs and organised crime, which has been identified as a priority area in the Coalition Government Agreement. Photo: ROSA WOODS/STUFF.
Last week, he announced a new batch of graduating constables would be tackling gang-related crime and working to reduce harm from drugs like methamphetamine.
In May, he said a gang focus police unit being set up in Hawke's Bay would go some way to curb the rise of gang violence in the region.
In April, he said police had dealt a major blow to the Comanchero gang with the arrest of senior gang leaders and seizure of nearly $4 million of assets. Police efforts reflected the Government's commitment to go hard on organised crime, he said at the time.
"Our unprecedented investment supports the deployment of 720 extra police officers to continue to disrupt, deter and dismantle organised criminal networks and reduce harm in our communities. The deployment of these extra staff over the coming years will help police continue to dismantle these gangs and prevent further harm."
By the numbers: Total patched and prospect gang members (October 2017- August 2019)
Auckland City 230 (18.6 per cent increase)
Bay of Plenty 1380 (30.4 per cent increase)
Canterbury 480 (16.2 per cent increase)
Central 640 (30.1 per cent increase)
Counties/Manukau 760 (21.4 per cent increase)
Eastern 1041 (30 per cent increase)
Northland 376 (-2.3 per cent decrease)
Southern 217 (61.9 per cent increase)
Tasman 124 (82.4 per cent increase)
Waikato 556 (44 per cent increase)
Waitematā 369 (22.6 per cent increase)
Wellington 556 (14.6 per cent increase)
Source: Minister of Police
Subscribe to our weekly Newsletter
Email: