Barbara Bew is holding her first art exhibition in Rotorua in December this year.
A premiere exhibition is not unusual. And proceeds are for Women's Refuge. But it nearly didn't happen.
For Barbara Bew, a registered nurse, her late blooming in art manifested from a background of violent assault, though it's clear she had had a talent in ceramics at a much younger age.
Barbara's tale, as told in the medical magazine Kai Tiaki Nursing NZ recently, is harrowing.
Recovering from a hysterectomy and complex pre- and post-operative conditions, her fiancé physically assaulted her while she was recuperating at his home.
She was thrown on the floor, unconscious when her abdomen was ripped.
Punches to her abdominal wound, a violent shove from her bed and her finger bitten to the bone, Barbara remembers the assault, accompanied by verbal abuse, continued for some time.
In excruciating pain, she drove to her unfurnished home with her two dogs easing her discomfort with preternatural warmth. Her dogs, Soul and Poppy, stayed until she could walk again, Barbara says.
She was re-admitted to Waikato Hospital but for an unsatisfactory result, which Barbara's has not accepted. Her assailant, her fiancé, the man she was to marry, got away with it.
That horrific night of unrelenting violence at the nadir of the most major of operations in a woman's life led to an epiphany of sorts.
For eventually, Barbara sought and found sanctuary in painting.
The most passive of the arts was a counter to the savagery of the violent end to her relationship. For art has helped salve memories of her torture.
Some time ago, the comedian/actor Woody Allen said art was a man's name. Yet it is because of a man, Barbara's art is in its recrudescence. Already, her works have attracted overseas interest.
The art that is now in New York, she says.
"It has gone to a fundraiser event; I've donated a body of work for SAFE NET INC. The proceeds of the art sold will help a safe house there and the women who stay there have been rescued from human trafficking."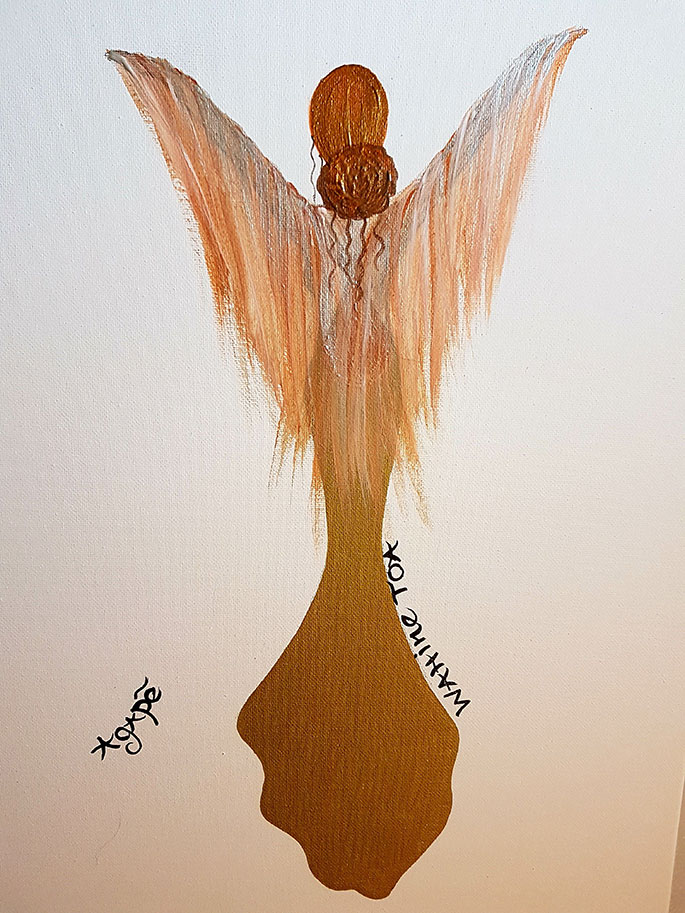 Barbara says she's sent art overseas to other survivors who were subjected to violence.
"How can I put a price on their emotional connection with my art?
"I have a real heart for other survivors; why should they be denied art? Survivors don't have money. I didn't when I was out of work.
"I think it more important to have people emotionally connect with my art on such a level, that they are inspired by my own story."
Barbara's ill fortune did not end there, either. A subsequent car accident damaged her left knee later in 2014, ensued by a battled with ACC. Suicidal following a year of abuse of various forms, Barbara received psychological treatment, but only on challenging ACC.
On learning of her background as an amateur ceramic artist, her osteopath suggested she paint.
Scraping enough money for a cheap paints purchase, she started in acrylics; as her talent revealed itself on canvas. Her confidence improved. "I painted love back into my life," Barbara told the magazine.
Originally from the United Kingdom, Barbara studied art to O level standard, passing her exam with a sound grade.
An O level exam – one of five she achieved – fomented enrolment in nursing school.
"I never really thought about pursuing art and really didn't have any spare time with my nursing career," Barbara says.
When aged 39, she emigrated to New Zealand in 1997.
In 1999, she had a miscarriage.
"It was an incredibly sad time for me. As I was grieving, I was introduced to ceramics, painting bisque wear. It was the first time I'd explored my emotions with art therapy. I found I really enjoyed being creative with paint on bisque wear; I guess my brush skills developed.
Fast forward to 2014. Barbara says following the assault and its aftermath, she was so "incredibly sick" with PTSD.
"Every time I thought life couldn't get any worse it did. Five months after the hysterectomy and assault, I fell and broke my left leg. Three weeks later had a double back tyre blow out in my car, my dogs were in the back of the car.
"My osteopath spoke to me. Because I felt so much despair, he told me to go home and paint."
Out of work and continually beset with PTSD, her nursing registration lapsed.
"I just knew I wasn't dealing with the simplest things at work, i.e., whether to give paracetamol in liquid form or tablet form. I knew if I continued, I'd make a drug error and I didn't want that to happen as I'd qualified as a nurse in 1979."
With the little money she had, Barbara bought what she calls "cheap paints", rendering her work on cheap canvases.
"I had the opportunity to talk about the night of assault with my ex fiancé a year after the assault," she recalls. "He coldly and calmly told me it was his intention to kill me and he'd loaded a shotgun which was in the bedroom where the assault took place. He refused to accept responsibility for his actions that night."
She has found spiritual healing. "I wanted to get baptised to thank God I survived and honour God with my art," Barbara says.
In 2017, Barbara arranged an exhibition of her works at Rotorua Arts Village. Her works seem laser-beam one theme – raising awareness for Women's Refuge. Her works radiate that theme.
The exhibition, 'Out of the Darkness and into the Light', over three weeks raised $1000, an ironic compensation for the refuge against the barriers she had faced in domestic vileness and later the medical diagnoses and subsequent life events.
To milk the irony, the $1000 was enough to purchase paint for three safe houses in Rotorua.
Barbara's messages are in her works.
Her admirers can comprehend what she has gone through, her inner thinking, by messages on her canvasses accompanying figures that seem coloured versions of works akin to the late Victorian illustrator artist and aesthete, Aubrey Beardsley.
With each passing day, month and year Barbara Bew's art exudes increasing confidence. A bold new world seems to add to her artistic fervour.
The ineffable trauma of five years ago may still embolden her brush, but today she is relaxed, happier that others now find solace from canvasses conveying the purgatory she went through.