Phil and Jordan have two things in common.
They are father and son and they are principals of major schools in their respective areas.
Both thrive on the challenge of being in challenging school areas.
Jordan was recently appointed the new principal at Parawai School in Thames.
Phil, his father, is in his second year as principal at Kaitao Intermediate.
While at 64, Phil has come full circle – his first senior appointment more than 25 years ago was deputy principal at Glenholme School in Rotorua – Phil says he and Jordan's careers have paralleled.
Both were principals within five years of becoming teachers.
Unlike Jordan, Phil was not a career schoolteacher. He was a hairdresser. He earned his university entrance, then cut from hairdressing to earn a degree at Canterbury University then a teaching degree at Waikato University.
Both appeared to relish the allure of challenging schools.
"He's doing well, isn't he?" Palfrey pere observes of his son.
Like Phil Palfrey.
One 2008 newspaper article is headed the 'Prince of Principals". In 2007, he was awarded a Queen's Service Medal for services to education.
In his time at Manurewa East Primary, he was elected executive member of the NZ Principals Federation for eight years, accented on inclusive education RTLB (Resource Teacher of Learning and Behaviour).
A marriage dislocation in Rotorua led to a family split – three sons lived with their mother in Tauranga. They remained close to their father – they became a teacher, formerly a farmer is a builder in Rotorua and a car salesman in Hamilton. Phil has a new family. His current partner, ironically, wants to be a hairdresser in Rotorua.
His education path has not been easy, but his spirit of adventure has made life easier for others. The school roll at Manurewa rose from below 200 to nearly 400. At Kaitao, the figures more or less parallel – a tour de force in both instances. "The roll was dropping here, too. It was meant to be 260 or something, now its 390," he says.
Born in Auckland, his family moved to Christchurch.
Jordan was a career teacher; at age 26, he became principal of a school at Kiwitahi School at Morrinsville. "He became a principal in year five and I became a principal in year five."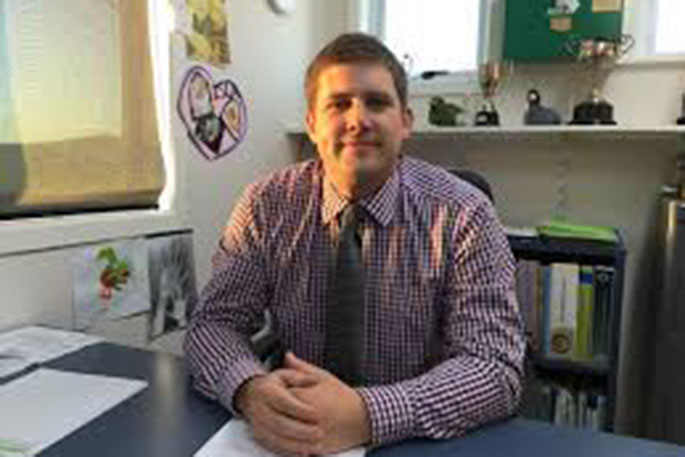 Jordan Palfrey.
"He always thinks he's going to beat me, but he's just found out that life in a big school is not quite the same as in a wee school." (Jordan has left a school to 40-50 students, to one with a roll of around 250).
After a 20-year hiatus out of Rotorua, Phil Palfrey has noted changes in the Rotorua education sector. "Some things of course remain constant," he says.
"In Auckland I was in a mix of predominantly Maori/Pasifika school so there were few Pakeha children. They were mostly Maori and Samoan and Tongan, with some Indian kids.
"I liked that mix. It was pretty vibrant. I enjoy it here, too. It's predominantly Maori at my school.
"Sometimes I wish those kids – because some of the are very parochial – are kind of entrenched in their surroundings and they think their surroundings are a big world and don't realise it just isn't.
"It's the lowest common denominator – they believe the gangs can rule and it's important. But it's not important to anything. That upsets me.
"Predominantly, 80 per cent of the kids do really well and they'll all find employment and all go on and have good lives," Phil says.
"Nothing changes in that respect and in what we do in education."
While teachers may think they are change agents, and complimentary letters from students over the years attest to the difference saying he has made to their lives, schools were not agents of change.
"And they can't be in lots of ways," he says. "All I've ever tried to do is make sure that the kids have the very best of opportunities in the very best of technology of buildings and the rest of it and I think I've pretty succeeded in that."
Kaitao is now undertaking a lot of work with, for example, Chinese schools. Teaching Chinese students is going to be "hugely beneficial to us" in revenue terms.
"The teachers and the students are going to be happy recipients of whatever comes into the school – it's very exciting."
Phil says he and his son Jordan enjoy their teaching roles, which they consider complementary rather than competitive.