The owners of around 450 properties at Lake Tarawera will be up for a $33,000 bill if the council decides to go ahead with a plan to connect the community to the district's wastewater system.
The Rotorua Lakes Council's Strategy, Policy and Finance Committee will meet on Thursday to decide if it will proceed with the $23 million Tarawera Waste Water Reticulation Scheme and also if it will invest a further $500,000 into the new forest hub on Tarawera Rd.
According to an agenda report, most homes in the Tarawera catchment rely on septic tanks, which over time leach into the lake.
"Wastewater reticulation is therefore crucial to delivering on the National Policy Standard for Freshwater Management and to achieve a measurable difference in arresting the ongoing decline of water quality in Lake Tarawera," the reports states.
If the preferred option is approved property owners will have to stump up $33,000 to connect to the scheme and will have until August 20, 2024, to make a lump sum payment.
Each property would have low-pressure grinder pumps installed that would connect to the Ōkareka pumping station along Tarawera Rd. The cost also includes wastewater infrastructure and maintenance.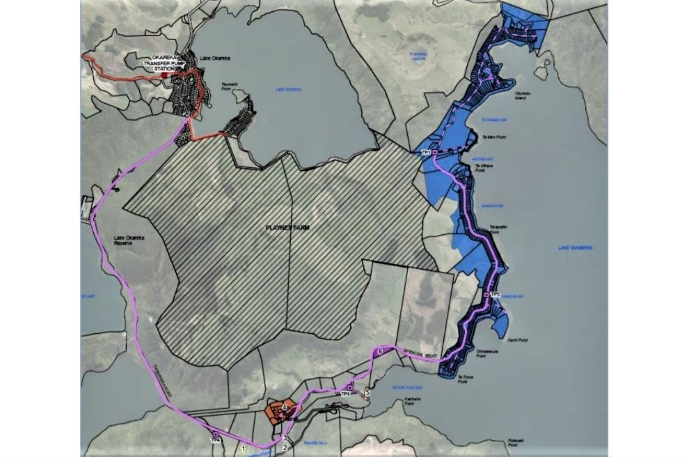 A plan of the proposed sewerage network for Lake Tarawera (right, purple line) that would connect to the Lake Okareka wastewater pumping station (top, orange line). Photo/RLC
The Tarawera Sewerage Steering Group - made up of representatives from Tūhourangi Tribal Authority, Te Mana o Ngāti Rangitihi, Māori landowners, the Tarawera Ratepayers Assoc, Te Arawa Lakes Trust, regional council and Rotorua Lakes Council - says the preferred option has the "...lowest cost for homeowners as well as for the Council's long term operations, would measurably improve water quality at Tarawera, avoids wāhi tupuna (ancestral sites), and could be implemented quickly (resource consent is not required)."
If approved, work could start on the project by July 2022 and should be finished by June 2024.
Tarawera Sewerage Scheme key dates:
Plan presented to Policy, Finance & Strategy Committee: Nov 12, 2020 Plan presented to Full Council: Nov 29, 2020
Adoption of Plan into 2021-2031 Long Term Plan: June 2021
Construction Dates: July 2022 to June 2024
Payment Dates for Tarawera Ratepayers: Invoices Issued July 1, 2024, Final Payment due: August 20, 2024
Breakdown of costs (excluding GST):
Total estimated scheme costs: $22,500,000
Ministry for the Environment contribution: $6,500,000
BOP Regional Council subsidy: $750,000
Rotorua Lakes Council subsidy: $825,000
Remaining costs funded by residents: $14,425,000
Councillors will also decide if a further $500,000 of funding should be invested to "...further develop and build infrastructure and the trail network on and around the Te Pūtake o Tawa/Forest Hub 2 site and support commercial operations ready for the summer season".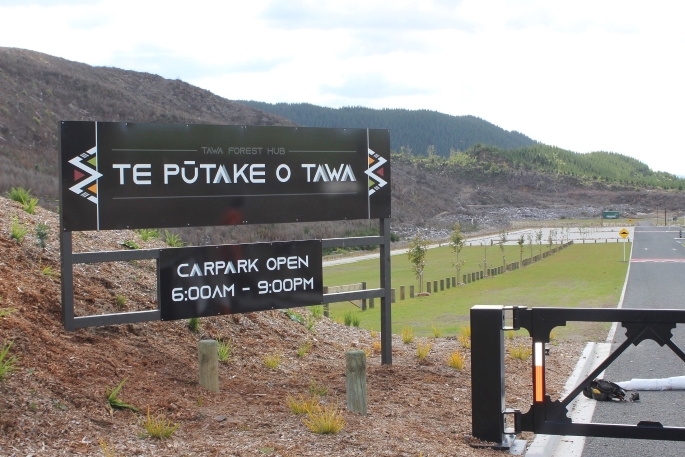 Te Pūtake o Tawa/Forest Hub 2 site on Tarawera Rd. Photo/File
An agenda report states that commercial operators are ready to start construction of new mountain bike hire, retail and café/food & beverage businesses at the newly opened Whakarewarewa Forest Hub 2 site on Tarawera Rd.
The report recommends the council approves funding to build a stand-alone deck and hard shelter area (alongside investment from commercial operators), approximately 4.8km of new trail to complete the Forest Loop trail as well as additional track and trail building near the forest hub site.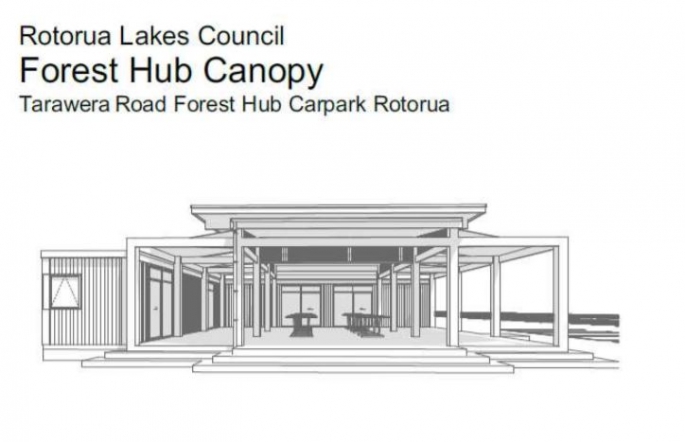 A view of the proposed deck and hard shelter area. Photo/RLC
"As part of the negotiations it has been agreed that the operators will invest private capital in the form of buildings & fit-out for their commercial operations. This negates the requirement for council to extensively invest in buildings to activate the site," the report states.
The meeting is being held in the Council Chamber from 9.30am and is open to the public. It will also be live-streamed on the council's website www.rotorualakescouncil.nz.
Subscribe to our daily Newsletter
Email: