It's not all fast-paced action and hard knocks at Crankworx Rotorua.
There is another side, observed from behind the camera lens, which captures the imagination of festival-goers each year.
The Canon Deep Summer Photo Competition presented by Regent of Rotorua is a definite fan-favourite and this year the team at Crankworx Rotorua are taking it to new heights, literally.
Hosted at Skyline Rotorua's Hidden Venue on the slopes of Mount Ngongotahā. this will be the first time Deep Summer will take place on site, at the Crankworx Festival, following a huge day of events.
Crankworx Rotorua director Ari Tibble says this year, they wanted Deep Summer to have a bigger impact for those that came along.
'It's a pretty special event. We have these talented photographers capturing a side of mountain biking that not everyone gets to see.
'Everyone always sees the gritty side of riding but we are in one of the most beautiful places in the world and seeing it from behind a camera is just an awesome way to showcase Rotorua and the sport.
'We wanted it to have an extra cool feel. There is something magical about Skyline's Hidden Forest venue, which I know, will make this an evening to remember.
'Even though we have added a cost element to the event this year, the goal is to return that full value to the spectator with a luge ride, the refreshment, live music and the competition itself. I think people will be blown away by the value."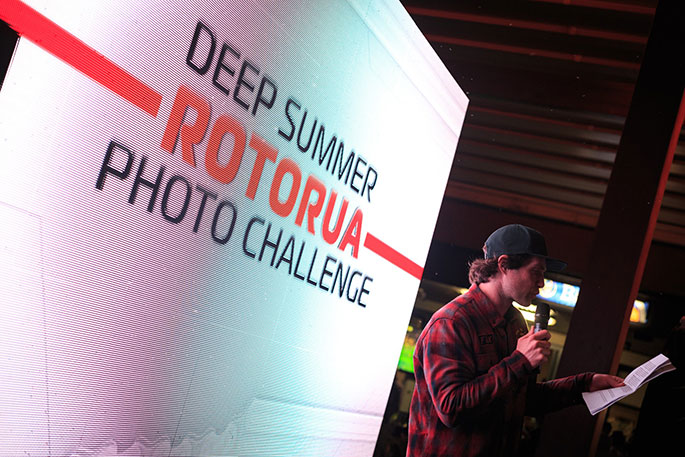 Alongside the new venue, the competition features a Rotorua local in the line-up of talented photographers – Thomas Falconer.
Videographer, photographer and mountain biker, Thomas says he is excited to get outside his comfort zone as part of this year's competition.
'I've been riding bikes and being creative with cameras since I was knee high to a grass hopper and the Deep Summer Photo Challenge has been on my radar for a while now.
'I've been capturing special moments in people's lives for seven years, with all that I have learnt in the industry and my passion for mountain biking I intend to bring a fresh perspective to the world of mountain biking.
'I'm excited for this year's challenge brief because it will push me out of my comfort zone but enable me to capture the essence of what it means to be born and bred in Rotorua!"
Thomas is joined by four other photographers:
James Malone

Henry Jaine

Jemma Wells

Hunter Paul
After three marathon days of shooting around Rotorua, the five photographers will come together to put on an epic slideshow event amongst the trees at the Hidden Venue.
A massive $3000 is up for grabs for the winner of Deep Summer 2020.
Deep Summer takes place on Friday, March 6, following the Clif Speed & Style Rotorua presented by Mons Royale (5.30pm – 7.30pm) and The Rock Best Trick presented by Transdiesel (7.30pm – 8.30pm).
Ticket holders will make their way up to Skyline via the gondola and luge down to the Hidden Forest venue. Doors open at 8.30pm for a 9pm start.
Spaces will be limited so viewers will want to secure their spaces early – grab your tickets HERE
Check out the previous year's winners:
Jim Topliss ( 2019 ) – https://www.youtube.com/watch?v=gDI9mj8XuJE
Laurence Slideshow ( 2018 ) – https://www.youtube.com/watch?v=kIPe5r8pnmM&t=8s
Boris Slideshow ( 2017 ) – https://www.youtube.com/watch?v=h-eZj2hoMV0
Simeon Patience ( 2016 ) https://www.youtube.com/watch?v=wLqzufMR_DQ