Last year Fisher Wang, aged 19, was a student at John Paul College; on Saturday he mastered in politics, winning a seat on Rotorua Lakes Council.
Rotorua signalled a confirmation of the present and a nod to the future as it re-elected Steve Chadwick and voted in four new councillors on Saturday.
Steve Chadwick has secured her third and probably final term while the new councillors offer an MMP environment. She has a clear working majority.
She polled almost 2000 votes (7796) ahead of her nearest rival Reynold Macpherson (5837), while Rob Kent, whose candidacy effectively nullified Reynold's chances, registered 2330 with Dennis Curtis who had practically no public profile until he lodged his nomination, polled 2181.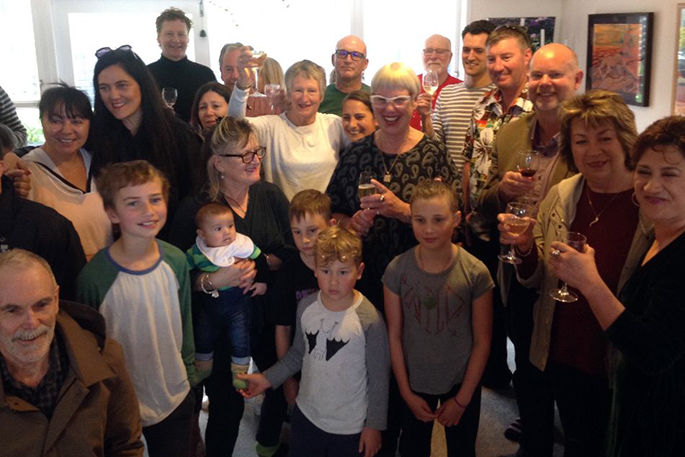 Raising a toast: Rotorua Lakes Council Mayor Steve Chadwick, with her supporters on Saturday night
Joining Steve on the Rotorua Lakes Council are newbies Fisher Wang, Mercia Yates, Sandra Kai Fong and Reynold Macpherson.
With final results to be counted, it seems likely, with adjustments, the election night results will stand.
Which means haere ra to staunch councillors Mark Gould, and Rob Kent, who also finished third in the mayoralty.
Rotorua has possibly voted in an enviable record – Trevor Maxwell, aged in his mid 70s, is now officially New Zealand's longest serving councillor while at age 19 Fisher Wang is the probably the youngest.
As he arrived at Steve Chadwick's post-election function Fisher, when asked, said he had no idea how he had carried the vote. In thanking all for their support, he said, "I am still shaking, it's amazing".
Asked where he thought he had drawn his support, he replied: "I don't know".
The mayoralty result was also a resounding victory for Steve Chadwick.
Since 2016, when Reynold smouldered at the result, this time his response is so far muted: "Congratulations to the mayor. [I] will not comment further until I have analysed the numbers."
Steve, addressing her following on Saturday afternoon, praised the diversity of her new council.
She lauded a "good council' which reflected the diversity of the community.
"It is so much better when those who always were challenging to us to be inside the council who are going to realise the complexities of making balanced decisions," Steve told 50 people when the result was known.
"That's not a bad thing at all. We hold our majority and that's incredibly important – it's not a bloc, it's those who sensibly see we've got to keep this district moving, and investment in growth is important."
Of the overall result, Steve says it was significant the 18-year-old Fisher Wang "got in – young guy with integrity".
Fisher was not the only present councillor to perform well. Tania Tapsell, aged 26 and now in her third term, polled No 1 with 8707 votes, followed by Raj Kumar (8604) and Sandra Kai Fong third with 7936.
The biggest mover of the new chums with lesser profile but who performed well on the stump was Mercia Yates with 6925 votes, leapfrogging perennials Peter Bentley and Merepeka Raukawa-Tait in the popular return.
In another hint to a change to the accepted order, established councillors Dave Donaldson, whom Steve Chadwick immediately confirmed will be deputy mayor, and Trevor Maxwell finished respectively ninth and 10th.
Well out of favour were Mark Gould and Rob Kent, losing out possibly to a conclusion he no longer lives in the district.
While a new order is imminent, the community overwhelmingly voted in Sandra Kai Fong, a Rotorua lawyer, of a trenchantly established family name. For nine years, Sandra was an elected member of the influential Rotorua Energy Charitable Trust, but spurned re-election with this body (next month) for her whole-hearted bid for the council.
Apart from Mark Gould and Rob Kent who were voted out, Charles Sturt (ill health) and Karen Hunt (retired) did not stand again.
Election night councillors were:
TAPSELL, Tania Independent 8,707; KUMAR, Raj Residents And Ratepayers 8,640; KAI FONG, Sandra 7,936; YATES, Mercia 6,925; BENTLEY, Peter 6,630; RAUKAWA-TAIT, Merepeka 6,474; WANG, Fisher Independent 6,172; MACPHERSON, Reynold Residents And Ratepayers 5,877; DONALDSON, Dave 5,350; MAXWELL, Trevor 5,343;
Also: HOSKING, Trish Independent 5,180; MCKENZIE, Lachlan Residents and Ratepayers Vote for Change 5,060; JONES, Peter Independent 4,755; COUTTS, Kevin 4,668
GOULD, Mark Independent 4,503; O'BRIEN, Conan Residents and Ratepayers 4,465; NATHAN, Oscar 4,336; MARTIN, Matthew (Matt) Independent 4,287;
ROWBOTHAM, Linda Bringing Communities Together 4,125; SOLOMON, Alan Tane Making a Difference 4,118; GRAY, Ryan Realising Our Potential 4,117; KENT, Rob Independent 3,683; CARRINGTON, Liz Community Health and Wellbeing 3,309;
SPARKE, Kaya Independent 3,106; DAVIS, Brendan Your Voice on Council 2,909 TRUMPER, Shirley 2,756; RUPAPERA, Harina Rinaha Conservation and Education 2,394; DEVERSON, Alan Independent 2,099;
WHARE, Bam 1,729; COLLINS, Richard THINK POSITIVE for a positive future 1,571; HEDGES, Bill Independent 1,565; MUTLOW, Lance Independent 1,232; RAKEI-CLARK, John Independent Residential Initiative 1,225; KERRY, Julie All the Way with J.K. Independent 1,195.
Subscribe to our daily Newsletter
Email: