In early 2019 Simon Beaton decided to jump 10,000 feet.
He told me this on a sunny Friday morning from the fifth floor of the Devonport Towers.
We sipped our coffee, looking out across the harbour towards the airport. Simon is one of those Clark Kent-type, mild mannered individuals who you don't suspect is, in reality, an intrepid adventurer who happily throws himself into exploring places like Archipiélago de Colon and Africa.
I thought about all the questions I could ask – what was it like seeing Galápagos tortoises, iguanas and a blue-footed booby? When did 'Drop your boss' change from abseiling off the side of a building to leaping out of a plane? How much would it cost?
"I didn't know you are a boss?" I asked, fortunately only silently in my head. I realise I harbour the flawed perspective that bosses create fear and affix blame, whereas leaders create confidence. Simon is a leader.
"Why are you doing this?" I asked instead.
"Well last year Dan Allen-Gordon from Graeme Dingle Foundation who organised it, persuaded my wife Michele to do it, which she did," says Simon. "I have done it before, about ten years ago for a different charity."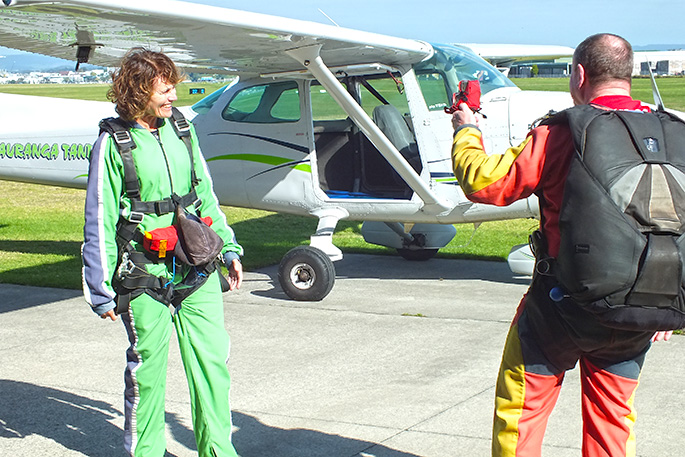 Michele Beaton doing the 'Drop Your Boss' challenge in 2018
"This year Dan phoned up the office and talked with my daughter who is the office manager, and asked if I would like to do it," says Simon. "She said 'well you can always ask', so he phoned me up, and I said 'well I'm not that keen'.
"And he said 'well it's your turn', so I said 'oh okay'. And also it's a worthy cause."
I suspected this 'not that keen' was probably the start of many of his adventures, which perhaps is a great way to keep expectations lowered and then be pleasantly surprised by the wonder of new discoveries?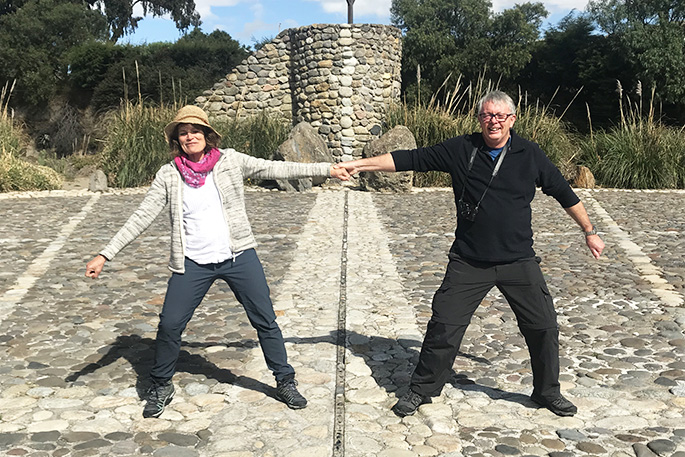 Michele and Simon Beaton on either side of a border
Simon and Michele run Learning Journeys, a tour operator company that caters mostly to high school and university students.
"And we do a mixture of curriculum-linked courses, two weeks long, sometimes one day. Both NZ and international students."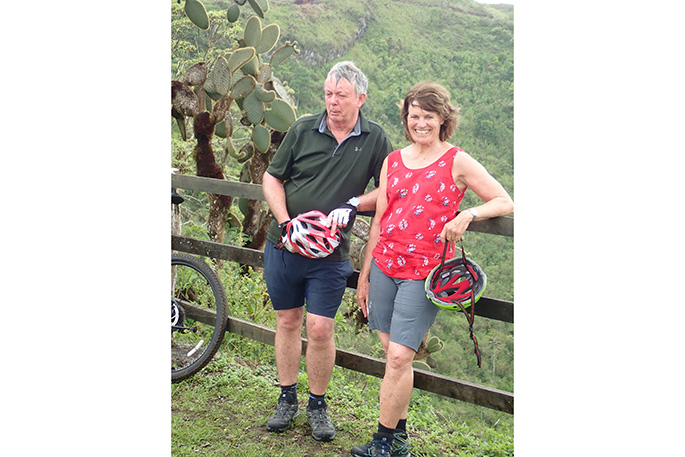 Simon and Michele resting during a cycling trip in the Galapagos Islands in the Pacific Ocean.
It was a busy week. Michele was away with Rotorua's Western Heights High School for two days, and they were expecting a Hong Kong group to arrive in about two weeks' time.
"They're doing education and science," says Simon. "We've had schools from the United States, China, Hong Kong, Singapore and lots from Australia. And we have Appalachian State University coming out. They come every two years. This will be their third visit."
"We have one German school coming out next March. This will be their eighth visit – they come over every two years. So we have a lot of repeat visits. Locally Otumoetai College is one of our oldest customers and Michele used to teach there."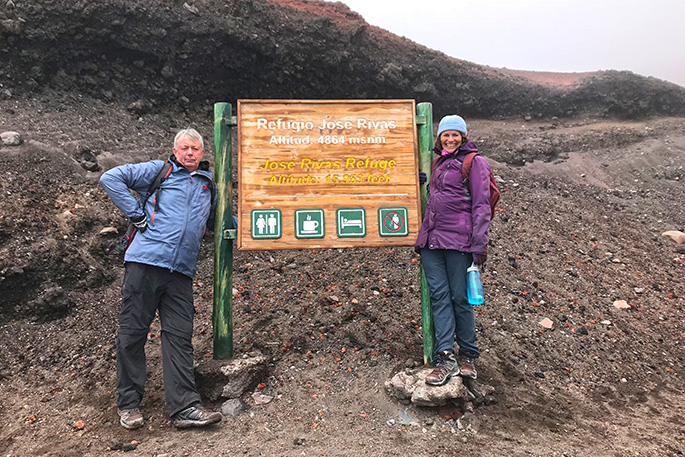 Simon and Michele at the José Rivas refuge which is the cozy base camp for the volcano, Cotopaxi in the Andes Mountains in Ecuador
Simon has known Dan for some time, as both of them and Michele are members of the same Sunrise Rotary Club.
"At the Graeme Dingle Foundation they believe 'what you have on the inside is greater than any obstacle you may face'," says Simon. "In the spirit of that ethos, I am making the leap, 10,000 feet out of a plane, to help raise money towards the incredible work the foundation does here in our own community."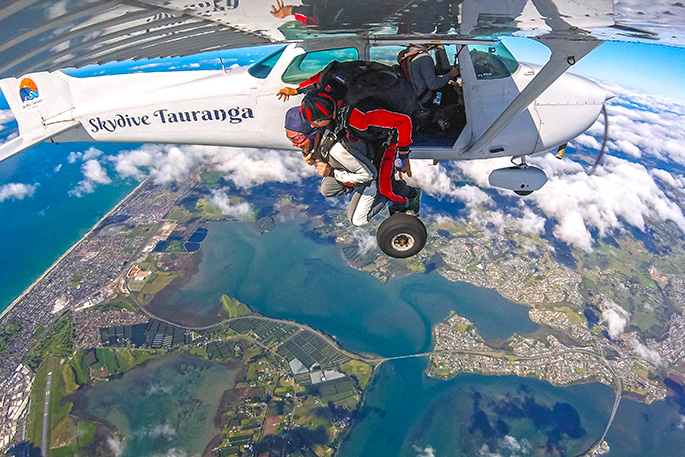 Simon, leaping out of the plane at 10,000 feet.
The Graeme Dingle Foundation run Project K, Kiwi Can, and Stars; reaching over 3,500 young people in the Bay of Plenty. These are all proven and successful school-based programmes that aim to inspire young people to reach their full potential by helping to build their self-esteem, promote good values and teach valuable life, education and health skills.
The 'Drop Your Boss' challenge is an annual fundraising event for the Graeme Dingle Foundation. The organisation asks 'Bosses' to put themselves in the shoes of young people and to step out of their own comfort zone and do something very challenging.
In 2015, 20 Tauranga community leaders abseiled down the Regional House building. Since 2017, about 20 Bay bosses and business leaders, each year, have been pushed out of a plane in a tandem sky dive.
"I'm not sure how I'm ending up being dropped because I'm not really the boss," says Simon. "We don't really have a boss in our organisation."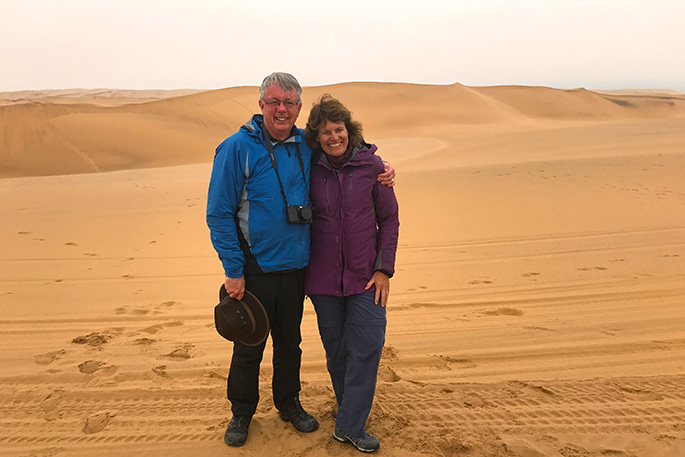 Simon and Michele in the Namib desert in southern Africa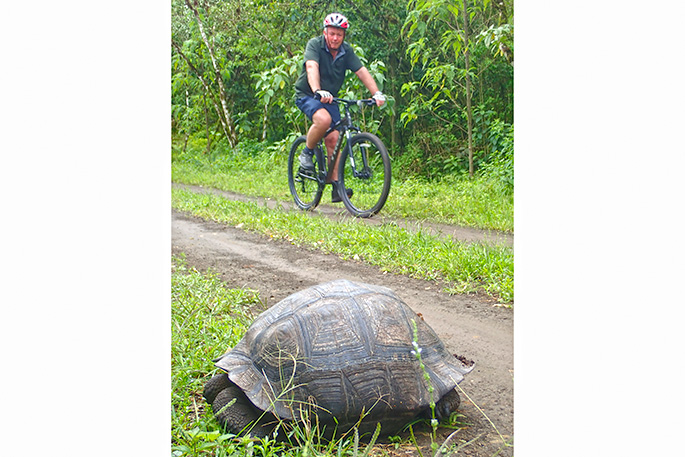 One of Simon's cycling hazards on Isabela Island in the Galápagos
Their business has four full-time staff members including Simon and Michele, and two part-time staff. Simon and Michele both have an integrative style of leadership, and Learning Journeys is heavily involved in supporting the local community. They provide transport for the local Alzheimers' volunteer group, their operations manager is involved in mentoring a student for Project K, and they help support the TECT Rescue helicopter and St John.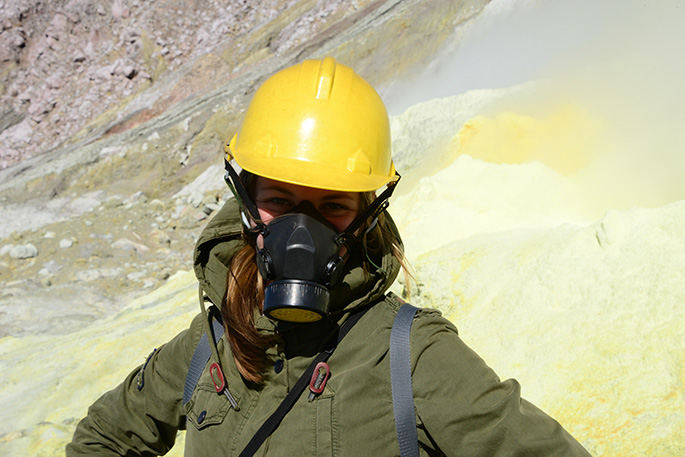 Michele on White Island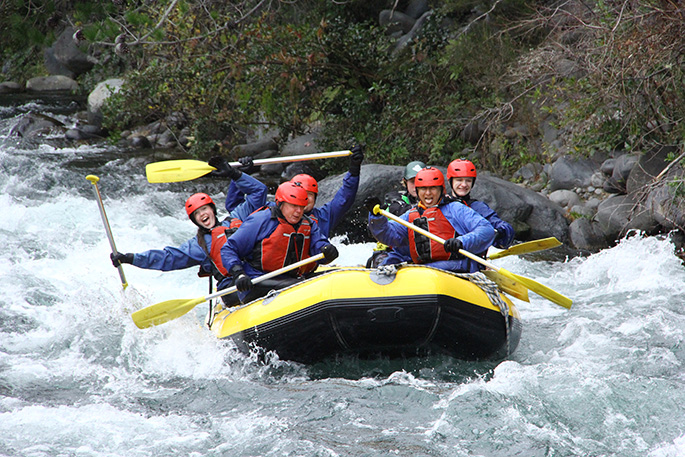 Simon and Michele taking a school group rafting on the Tongariro River
Leaping out of a plane to raise funds for the Drop your Boss challenge is just par for the course with both Simon and Michele.
"I have done it before," says Simon. "It's a bit scary."
"I believe the idea is that you earn enough sponsorship so it covers the cost of jumping plus more, but $350 is our contribution from our business. That's what we did last year with Michele and that's what we're doing again this year."
To learn more about the Graeme Dingle Foundation go to www.dinglefoundation.org.nz
Subscribe to our daily Newsletter
Email: