A proposal to close Marguerita St to through traffic or build "speed calming measures" on the partly residential road has been met with overwhelming opposition from the Rotorua public with more than 88 per cent of submissions against any change.
However, the Rotorua Lakes Council's Operations & Monitoring Committee will meet on Thursday to discuss a recommendation to build a "modified version of the status quo" that would see new pedestrian crossings built, lane narrowing and more signage installed on the busy road.
Public consultation on three options to manage traffic on Marguerita St due to residents' safety and heavy traffic concerns closed at the end of July with the council receiving a total of 1321 responses from the public.
The options were to keep the road as it is, reduce traffic speed and vehicle movements by installing chicanes or narrowing the road, or to remove the ability to travel through Marguerita St completely.
That would have meant closing the road by building back-to-back cul-de-sacs at a midway point near the Vetora vet clinic and White St.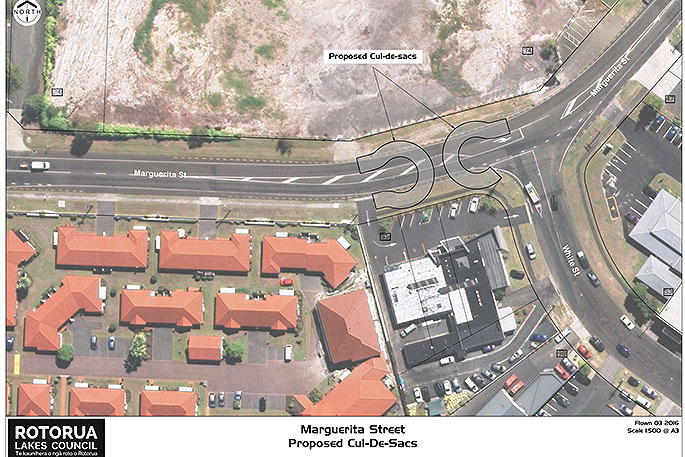 Option 3 was to close Marguerita St to through traffic. Photo/RLC
Of those responses received, 1167 were in favour of no change, 71 in favour of option two and 83 in favour of option three.
Public engagement:
• 1321 total responses

• 1167 in favour of status quo: 88.3%

• 71 in favour of traffic management option two: 5.4%

• 83 in favour of street closure option three: 6.3%
A community-wide petition asking the council to stick with the status quo gained 680 signatures while a petition from about 60 people received from the Glenbrae Village Residents Association asked the council to consider the option of closing the road to through traffic.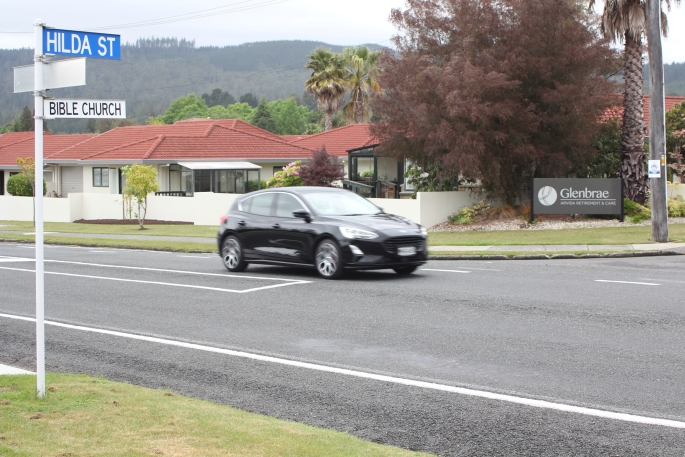 A petition to close the street to through traffic was received from the Glenbrae Village Residents Association. Photo/Matt Martin
An agenda report to the committee noted that the status quo was the option preferred by the majority but this would not address the concerns and views of Marguerita St residents.
To address some of those concerns the council has previously installed larger "slow zone" signage, reduced lane widths and added temporary bollards to prevent parking on verges.
The agenda report summarised feedback from the community.
"Businesses – both on or near Marguerita St - expressed concern that they will be directly affected if through traffic was targeted with access being less direct for their customers," the report states.
"Movements would be slower, longer and less convenient. Additional costs to be worn by businesses was not welcomed, particularly given Covid-19 impacts.
"Marguerita Street residents expressed concern that road safety risk was elevated due to perceived traffic speeds and the overall volumes of traffic making it difficult to safely cross the road and/or exit driveways; visibility was compromised due to trucks parking on verges; and traffic-induced vibrations were felt regularly from truck movements, potentially damaging homes and degrading the overall quality of life."
Other concerns from road users were that Marguerita St was an important through road from Fenton St to Te Ngae Rd and that it would be difficult to access local businesses on the street and on White St if the street were to be closed.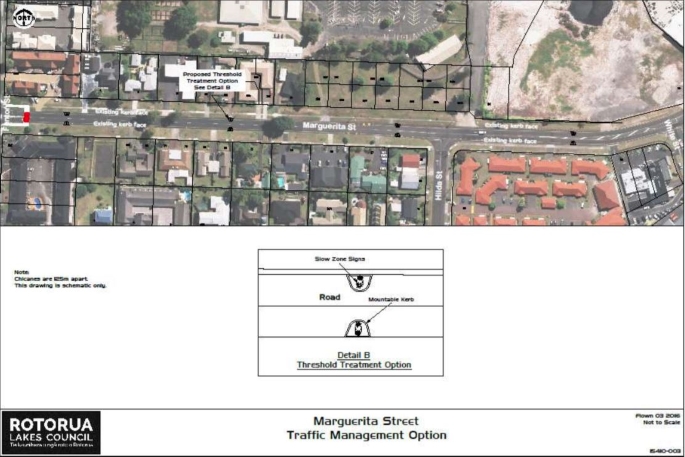 The council has proposed building a pedestrian crossing and installing chicanes at the residential end of Marguerita St. Photo/RLC
The report recommends councillors adopt a variation to the status quo and build a new pedestrian crossing, along with lane narrowing and more signage to slow traffic and address safety concerns for residents.
Thursday's meeting of the Rotorua Lakes Council Operations & Monitoring Committee will be live-streamed and is open to the public. The meeting is being held in the Council Chamber from 9.30am.
Subscribe to our daily Newsletter
Email: