Rotorua's council will consult the public over a plan that could see Marguerita St closed to through traffic due to safety concerns.
The Rotorua Lakes Council's Operations and Monitoring Committee met yesterday to discuss how best to engage the public regarding its Marguerita Street Traffic Management and Road Safety Improvements plan.
The council's Infrastructure General Manager Stavros Michael told councillors residents of Marguerita St had petitioned the council asking it to "remove the through traffic function of the corridor and to require separate residential traffic and industrial traffic accesses from Fenton Street and Te Ngae Road respectively".
Michael says the council now has an obligation to ask the wider Rotorua community what they think of the plan and its options, that include installing traffic calming measures such as chicanes or closing the road completely to through traffic from Fenton St to Te Ngae Rd.
He says staff have not set any budgets for the work as yet but according to a report "approval of the proposed public engagement methodology plan will enable Council to canvass the views and perspectives of the wider community and to gather the required feedback for an evidence-based recommendation/response by Council to those local views".
"While cognisant of the local residents' preference to remove the through road function of Marguerita Street, Council wishes to ensure that the wider potential impacts are well understood by the community and that the community is able to consider more than one option," the report states.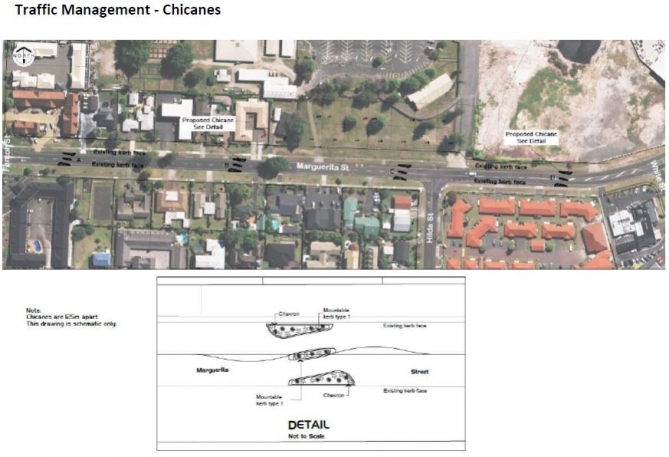 Another option is to build traffic calming measures like chicanes along the street.
Michael says there are concerns regarding heavy traffic and the mix of commercial, industrial and residential zones along the street.
According to the council report, the suggested proposal will have limited overall impact on traffic, but there will be significant impact on individuals and local communities such as businesses on Marguerita and White streets and people who use the road for inter-city travel between south-western and eastern suburbs of Rotorua.
Rotorua Mayor Steve Chadwick said she met with concerned Marguerita St residents in September last year and councillors agreed to go ahead with the consultation plan.
"...and they were actively interested in their neighbourhood. We had one of the more interesting public consultation meetings I had right through the election campaign," says Chadwick.

"We did suggest there are other residents and businesses that feed into Marguerita St, but I'm pleased we are going out with this."
Subscribe to our weekly Newsletter
Email: